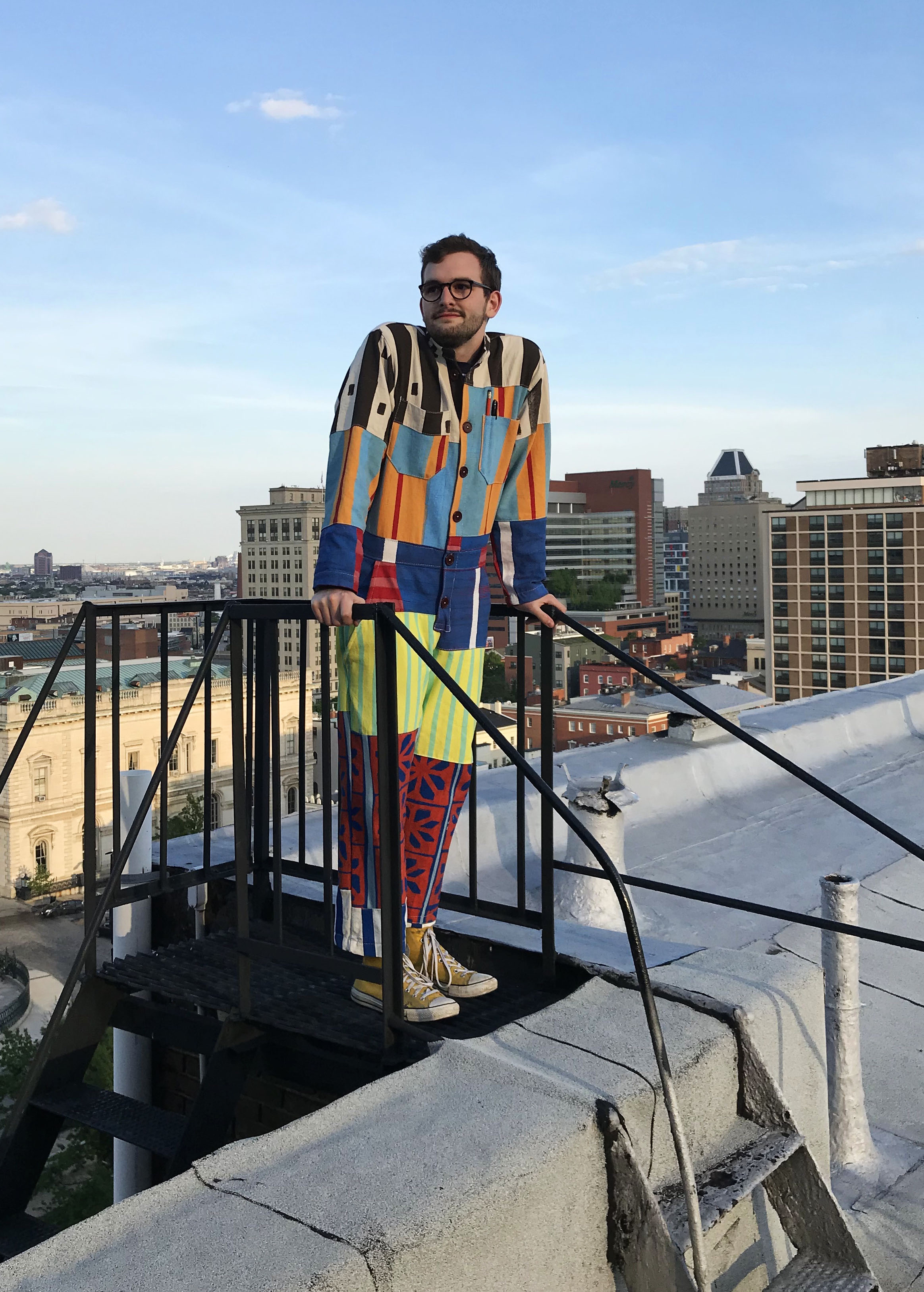 6 Decades of American Stripes
These coveralls were made as part of my ongoing project investigating the history of stripes in textiles. I analyzed Sears Wish Book Catalogs from the years 1937, 1947, 1957, 1968, 1977, and 1988 to trace and archive trends in striped clothing. I chose my favorite striped garment from each decade and made a canvas print in response, which was then sewn into the coveralls. The stripes and decades can be read chronological from top to bottom. Spring 2019.
Stripe Jacket
The second of edition of the jacket featured below. Dyed and 5 layer screen printed denim. Spring 2019.
Scrap Jacket
A dated, smelly jacket was found in a pile of donation fabrics. It was a little gross but it had a certain spunk. It was deconstructed, modified, and remade into a paper pattern, which I then used to create this jacket. The fabric used is my collection of scraps, containing dyed, hand printed, and digitally printed pieces of canvas I've collected from two years of working. Spring 2019.
Mi-Parti Crewneck
Crewneck sweatshirt inspired by the mi-parti's of the 14th century. See its conception here. Dyed flannel, printed with thickened paste. Pieced and quilted on top of fleece for extra warmth. Fall 2018.
Inverness I & II
Two coats constructed while thinking about duality. Modified found pattern dating to the 1850s. Felt appliqué, cotton/polyester blend lining. Fall 2018.
Block
Block was created for MICA's 25th Annual Benefit Fashion Show, Authenticity. It was showcased on April 13 & 14, 2018 in MICA's Falvey Hall. Documentation took place in Baltimore's Mount Vernon Neighborhood. Photography by Summer Howard. Huge thank you to Grace, Tyrese, Micah, Cassie, Alan, Jessie, Eric, Madison, and Kathy. See them up close here.
-
Block was a line commemorating the routine garments worn by Americans during the end of the 20th century. The collection looks beyond the popularized styles of the decade, focusing on ordinary garments that went unnoticed. Each garment was flat patterned and tailored to the model. The fabrics of Block were recycled, and include canvas, upholstery fabric, and t-shirt jersey. They were bleached and then hand-dyed. In all, about 30 yards of fabric were manipulated over the course of 7 months. Other materials included knit ribbing, overall buckles, and brass snaps. Every item worn, save for shoes and underwear, were made by my hands. The essence of Block is the appreciation of the everyday. In documentation and performance the models were asked to be themselves and do what would come naturally. They were given basic direction but emphasis was placed on what would make them feel most comfortable in their looks.
The Milkman
The Milkman is a garment created for the purpose of dispensing milk. The stripe pattern was digitally printed on cotton sateen. Vinyl, recycled wine hardware, and juice lids were used in the construction. Process photos can be found here. See it in action here. Photographed by Alan Clark. Fall 2017.
Matisse Inspired Flannel
Flannel fabric screen printed in the way you would collage. Paper stencil shapes were cut in response to Henri Matisse's Paper Cuts. Brass snaps. Fall 2017.
The Blue Crew
Canvas printed using digital printer. Pattern utilizes weather symbol for "scattered rain showers." The colors were pulled from instant noodle packaging. Fall 2017.
The Backpack Shirt
The Backpack Shirt was engineered with your convenience in mind. Dyed canvas and brass snaps. Fall 2017.
Lightning Sighted Coveralls
I come from Pittsburgh, the undeniable Steel City. Many members of my family worked day in and day out in the city's numerous steel mills, putting in honest and genuine work. These coveralls were created in response to this, outfitted with cargo breast pockets as well as double patch pockets on the hips. They're ready to work if you are. 10 feet of hand printed bleached canvas. Weather symbols. Spring 2017.